Journal of Applied Meteorology and Climatology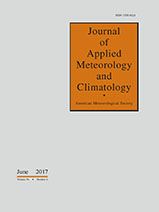 EISSN:1558-8432|ISSN:1558-8424|Disc:Journal of Applied Meteorology and Climatology (JAMC) publishes applied research on meteorology and climatology. Examples of meteorological research include topics such as weather modification, satellite meteorology, radar meteorology, boundary layer processes, physical meteorology, air pollution meteorology (including dispersion and chemical processes), agricultural and forest meteorology, mountain meteorology, and applied meteorological numerical models. Examples of climatological research include the use of climate information in impact assessments, dynamical and statistical downscaling, seasonal climate forecast applications and verification, climate risk and vulnerability, development of climate monitoring tools, and urban and local climates|Priority:12|
Recent Submissions
Information about snow water equivalent in southwestern British Columbia, Canada, is used for flood management, agriculture, fisheries, and water resource planning. This study evaluates whether a process-based, energy ...

Droughts are widespread disasters worldwide and are concurrently influenced by multiple large-scale climate signals. This is particularly true over Japan, where drought has strong heterogeneity due to multiple factors such ...

A novel algorithm is developed for detecting and classifying the Chesapeake Bay breeze and similar water-body breezes in output from mesoscale numerical weather prediction (NWP) models. To assess the generality of the new ...

Tropical cyclones are among the most powerful and destructive meteorological systems on Earth. In this paper, we propose a novel deep learning model for tropical cyclone track prediction method. Specifically, the track ...

Several urban canopy models now incorporate urban vegetation to represent local urban cooling related to natural soil and plant evapotranspiration. Nevertheless, little is known about the realism of simulating these processes ...

A new amalgamation of weather stations in and around Joshua Tree National Park in southeastern California has allowed for objective climate analysis regionalization at a much finer scale than past studies. First, it sets ...

Flooding from extreme precipitation can have major impacts on society in Alaska. Understanding how these extremes may change in the future is needed for better planning under climate change. Data on future changes in extreme ...

Western Equatorial Africa is one of the least sunny areas in the world. Yet, this has attracted little research so far. As in many other parts of Africa, light availability is mainly estimated using in situ measurements ...

Surface-based inversions (SBIs) are significant and common natural phenomena in the planetary boundary layer, and they play essential roles in weather and climate. This study used radiosonde data from 493 radiosonde stations ...

Clouds and precipitation play critical roles in wet removal of aerosols and soluble gases in the atmosphere, and hence their accurate prediction largely influences accurate prediction of air pollutants. In this study, the ...

Increases in the frequency of extreme rainfall occurrence have emerged as one of the more consistent climate trends in recent decades, particularly in the eastern United States. Such changes challenge the veracity of the ...

WRF-Solar is a numerical weather prediction model specifically designed to meet the increasing demand for accurate solar irradiance forecasting. The model provides flexibility in the representation of the aerosol–cloud–radiation ...

Atmospheric aerosols originating from natural and anthropogenic sources have important implications for modeling atmospheric phenomena, but aerosol conditions can change significantly and rapidly because of their dependence ...

Under the new background of climate change, it is very important to identify the characteristics of drought in North China. Based on the daily meteorological drought comprehensive index from 494 national meteorological ...

Understanding the connections between latent heating from precipitation and cloud radiative effects is essential for accurately parameterizing cross-scale links between cloud microphysics and global energy and water cycles ...

Extreme heat is annually the deadliest weather hazard in the United States and is strongly amplified by climate change. In Florida, summer heat waves have increased in frequency and duration, exacerbating negative human ...

Urban heat island (UHI) and sea–land-breeze systems are well-known and important characteristics of the climate of coastal cities. To model these, the accurate estimation of the surface energy balance (SEB) is a key factor ...

Near-surface air temperature variability and the reliability of temperature extrapolation within glacierized regions are important issues for hydrological and glaciological studies that remain elusive because of the scarcity ...

We present a tracking algorithm for synoptic to meso-α-scale Arctic cyclones that differentiates between cold- and warm-core systems. The algorithm is applied to the ERA5 reanalysis north of 60°N from 1950 to 2019. In this ...